Reindeer Autopilot System
.
It's December 24 and Santa has a busy night delivering gifts to 1.3 billion children around the world. To meet his delivery schedule, Santa relies on high-precision GPS navigation and autopilot systems to minimize travel time. Feedback is needed to confirm reindeer entries and monitor their health (even magical flying reindeer can run out of energy). To monitor the reindeer, their harnesses are attached to a pair of FUTEK tri-axial load cells.
How it works : 
Each reindeer harness is attached to an adapter mounted on the MTA600 type 3-axis load cell.
Dasher, Prancer, Comet and Donner are attached to the right side triaxial load cell, while Dancer, Vixen, Cupid and Blitzen are attached to the left side triaxial load cell. Rudolph, of course, is in the lead and is linked to both lines.
In flight, as the reindeer pull on the harnesses, the sensors measure the forces they generate in response on all three axes.
The signal generated by the force sensors is amplified and sent to the Autopilot and Navigation System (SANTA).
The SANTA system controls the reindeer, makes course corrections, and monitors the health of the reindeer as the sled travels through the sky to bring gifts to children around the world.
 .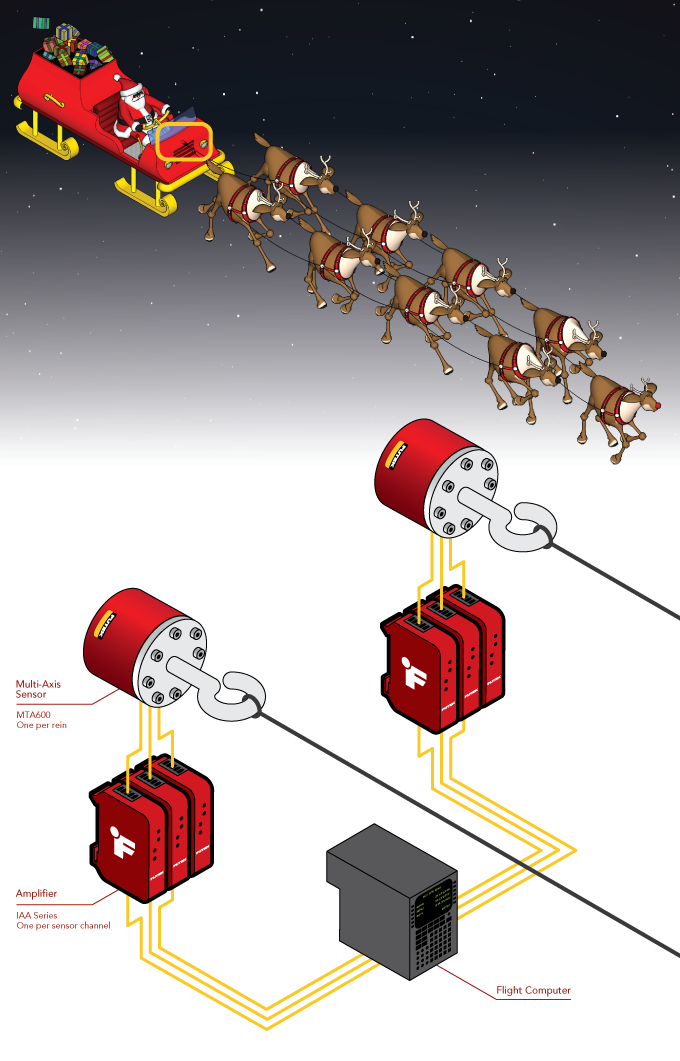 .