Torsion / Axial Torque Testing
.
What is a torsion testing machine ?
Torsion testing machines measure the torsional strength, stiffness and stress-strain properties of materials and products. This type of device is typically used to simulate real-world conditions and to verify axial torsional properties through axial torque tests on material samples.
An automated machine provides both clockwise and counterclockwise torsion testing capabilities, which allows for the determination of not only the ultimate torsional strength, but also the behavior of the sample when torque is applied to it in both directions of rotation. This test rig is an essential piece of equipment for measuring the axial torsional properties of materials for mechanical and quality laboratories.
.
Common applications for torsion testing :
Wires, metals, tools;
Plastics, composite materials;
Screws, fasteners, rods, shafts ;
Torsion springs;
Biomedical products;
Automotive components;
Aerospace components;
Torque sensor calibration.
Industry Standards for Torsion Testing :
ASTM D7860-14 - Torque Retention for Child Resistant Packaging;
ASTM F543 - Medical Metal Bone Screws;
ASTM A938 - Wire Torsion Test;
ASTM F1717 - Spinal Implant Constructions;
ASTM F2346 - Characterization and Fatigue Testing of Spinal Intervertebral Disc Prostheses;
ISO 7800:2012 - Metallic materials - Wire - Single torsion test;
ISO 9649:2016 - Wire - Reverse torsion test;
IEC 888 - Galvanized steel wire;
ISO 7800 - Torsion test on wire.
.
Why does the selection of an appropriate torque transducer matter for a torsion test ?
The torque transducer is the heart of the torsion testing machine. It is the element that detects the torsional force experienced by the device under test.
The TFF400 series reaction torque transducers offer a flange-to-flange mounting solution with torque measurements ranging from ±0.04 to 60 Nm. The TFF400 solid flange torque transducer uses metal foil strain gauge technology and features overload protection for low capacity units to prevent damage from overloads that may occur during installation. Combined with the recommended mounting plate, a full range of mounting options becomes available. The TFF400 reaction torque transducer is manufactured from aluminum and then anodized for optimum durability.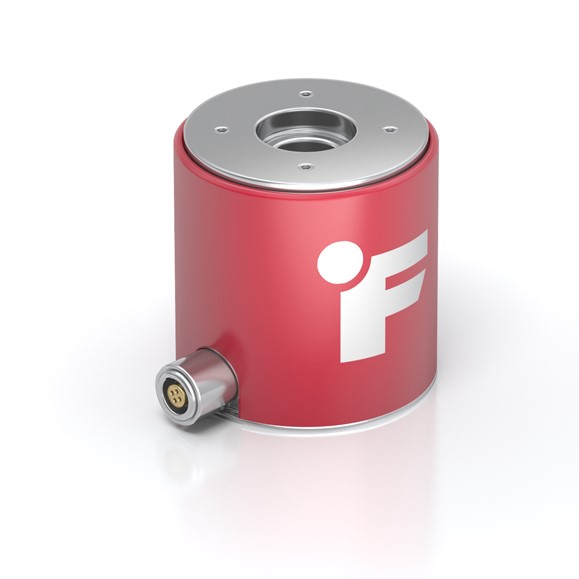 In addition, the TFF400 series offers overload protection up to 300% of rated output for the 5 to 1000 in-oz. range and 150% of RO for the 100 in-lb. to 500 in-lb. range.
For assemblies that require lower profile transducers, we recommend the TFF500 reaction torque transducer because of its height of only 31.7 mm.
In cases where torque and tensile force measurements in the vertical direction are required, the MBA500 dual-axis torque and thrust sensor is designed to measure both reaction torque moments and tension and compression loads.
.
TFF400 Features :
Integrates easily into OEM applications;
Clockwise and counterclockwise operation;
Designed for torque auditing;
Aluminum construction;
Built-in overload protection for lower ranges;
Strain gauge based torque sensing device;
Easy cable disconnection.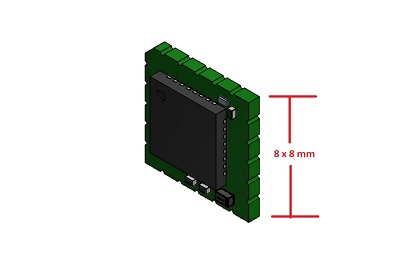 QIA128 Embedded Digital Signal Conditioner :
The QIA128 series of embedded digital signal conditioners offers a miniature, low-power solution with an SPI output. Despite its small size (8 mm x 8 mm), it offers a selectable sampling rate from 4 SPS to 1300 SPS to achieve a noise-free resolution (NFR) of 11.4 to 14.2 as required.
.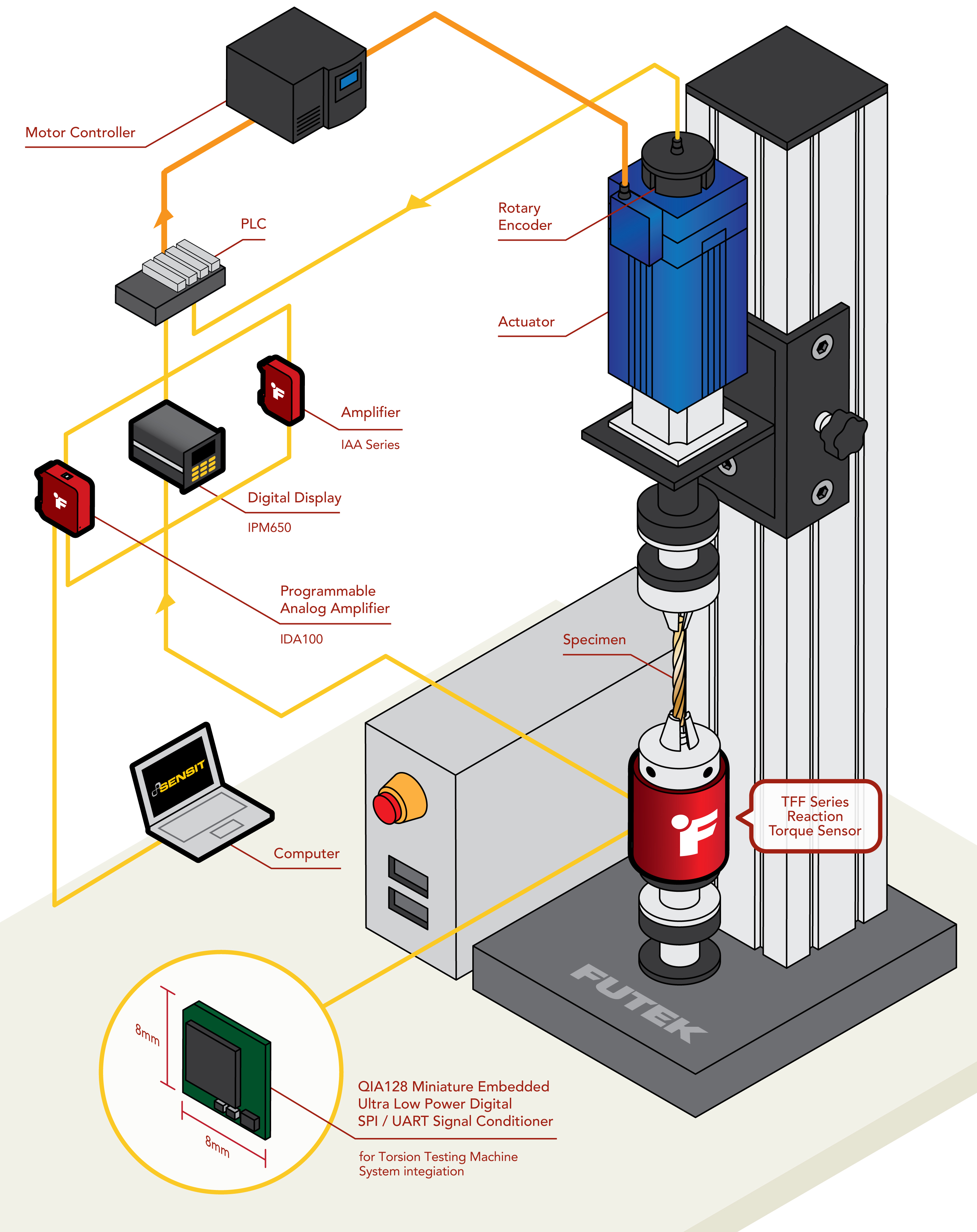 .
How does it work ?
A reaction torque transducer is mounted in the lower clamp of the torsion test system. The lower jaw holds the sample while the upper jaw rotates, driven by the actuator.


The torque transducer measures the axial twist of the sample in both clockwise and counterclockwise directions.


The motor is controlled by a motor controller built into the PLC. An encoder measures the angular movement for the return to the initial position.


The torsion signal can be amplified by the IAA series amplifiers to a PLC, displayed on a digital screen (IPM650 or IHH500), or transmitted directly to a PC using our USB solutions.


If the instrument is paired with SENSIT™ test and measurement software, operators will be able to record, plot and capture all data on the PC.


We recommend using the QIA128 series of miniature, ultra-low power digital signal conditioners with SPI output, which are an ideal solution for integration on a torque test system.
.
Products Used :
The TFF325/TFF350 reaction torque transducers can be used as an OEM version, integrated with the QIA128 digital signal conditioner for an embedded solution.
The QTA141/QTA143 are miniature, low-profile reaction torque transducers. With a height of 10 mm, these transducers are not bulky in the existing construction and do not add unnecessary height to the test stand. 
.