Digital Bottle Cap Torque Tester
.
What is a bottle cap torque meter?
In bottle sealing applications, quality assurance engineers want to ensure that consistent force and torque are applied to bottle caps, which is critical to reducing product rejection rates.
Determining the screw-in torque is important, first to ensure that the shipped bottle is properly sealed to prevent leakage during transport, but also paramount to the quality control of child-resistant closures. To do this, it is necessary to use a torque tester capable of repeatedly measuring the opening and closing torque of the caps.
In addition, for systems that require aseptic or sterilized packaging, verification of the closure torque measurement is essential for seal validation and quality control.
.
Why use a FUTEK sensor for a closure test?
In order to perform this type of test, a reaction torque microsensor is used in the capping press to ensure accuracy, consistency and seal integrity. The FUTEK Cap Torque Meter is ideally suited for basic clockwise and counterclockwise bottle torque testing.
The FUTEK QTA141 reaction torque sensor measures bottle cap insertion and removal torque up to 2 Nm with an accuracy of ±0.5%. Due to its very low profile with only 10 mm height, it does not add extra height to the test stand. Temperature compensated and made entirely of aluminum, this torque transducer is capable of achieving an impressive 0.5% non-linearity while offering 150% overload protection. 
If your bottle cap testing application requires higher torque capabilities, we recommend one of our TFF series reaction torque transducers. This is a family of over 30 products with different heights, capacities, mounting flanges and cable configurations. Please contact us to guide you in selecting the sensor that best suits your application.
.
QIA128 Embedded Digital Signal Conditioner
The QIA128 embedded digital signal conditioner is a miniature, ultra-low power conditioner with an SPI output. Its small 8 mm x 8 mm board offers a selectable sampling rate from 4 SPS to 1300 SPS to achieve a noise-free resolution (NFR) of 11.4 to 14.2 as required.
.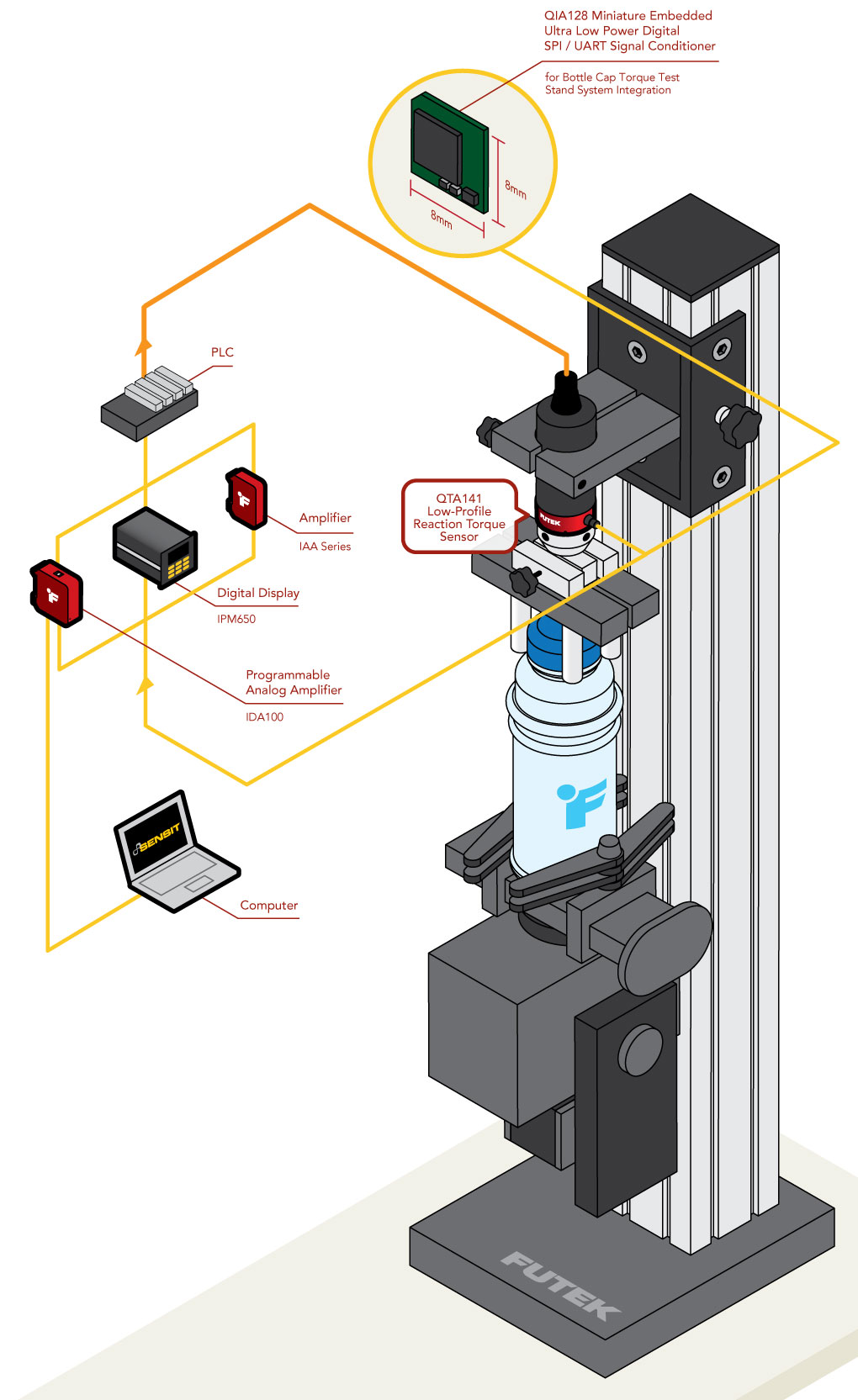 .
How does it work?
A reaction torque sensor is built into the test rig assembly to monitor the torque exerted on the bottle cap to rotate it.


This sensor is capable of measuring both clockwise and counterclockwise torque. It can therefore monitor the insertion and removal torque of bottle caps.


The torque signal can be amplified by FUTEK's IAA series amplifier to a PLC, displayed on a digital display (IPM650 or IHH500) or transmitted directly to a PC using FUTEK's USB solutions.


If the instrument is paired with FUTEK's SENSIT™ test and measurement software, operators can record, graph and capture all data on the PC.


A QIA128 is an ultra-low power miniature digital signal conditioner with SPI output and can be used for bottle cap torque test system integration.
.
Products used :
QTA141 - Miniature static torque sensor with micro feedback.
IDA100 - Analog and USB output strain gauge amplifier.
IPM650 - Digital indicator with USB output.
.